Important Notice
Before the start of your class, please make your way directly to the Training School  - Lanchester Way, Daventry, NN11 8PJ. The Training School is NOT located at the main Cummins plant.  
The Training School is further down Royal Oak Way South from the main plant. See map below for details.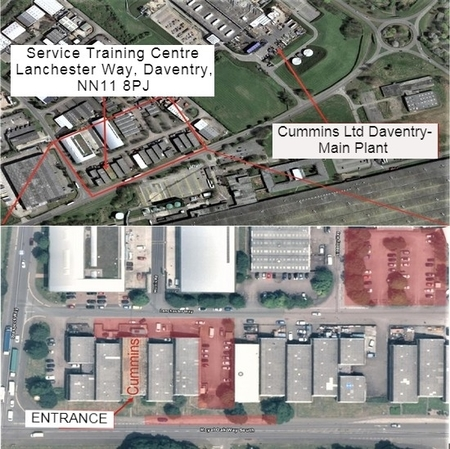 Parking Details 
Please park in the red areas as shown in the map above. When you have parked your vehicle please make your way to the main entrance to enter and be signed in.
Please arrive 5 minutes before the time seen on your enrollment email - usually 8:45am or 12:00pm.
Participants are advised to wear comfortable clothing suitable for working on engines together with your own CLEAN SAFETY FOOTWEAR which is MANDATORY.
For Qualification Level – please read below.
Course pre-requisites are required to be completed before attending the course.
The CVC pre-requisites are available online at Cummins QSOL.  You will need a unique CVC Promotion ID number to work online from our Help Desk email address at:- [email protected] 
We look forward to welcoming you to our Training Centre in Daventry.